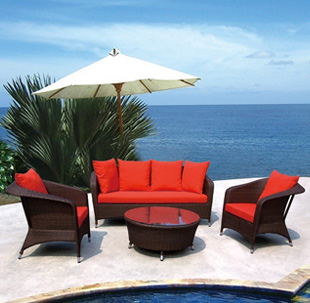 Since the opening of FOSHAN SANDEN in 2006, the company has continuously offered its clients the latest trends and attractive new designs in OUTDOOR FURNITURE.
A large and modern plant - over 10000 square metres - is located in the Foshan city with more than 300 staff members and 10 production lines. We export over 900 containers each season. Our products sell well in European country like Spain, Italy, Greece, France and so on. We also have a steady turnover in American and Asian market.
The collection consists of a vast assortment of furniture such as chairs, table, lounges, dining set, sectional sofas and many other designs which can be widely used in hotels, teahouses, homes and other leisure functions.
The company is also involved in the contract business and provides a wide range of its products to clients such as hotels, restaurants and executive offices for the furnishing of their premises.
Sanden's competitive advantage is based on the reputation of highly professional service and assistance and we can ensure that clients' furnishing needs are anticipated and met. The philosophy of the company is to provide individual clients with furnishings that are specific to their unique requirements, and to provide solutions which are best-suited to their projects and interiors.
At SANDEN you will always find the finest of high quality outdoor furniture that is truly something special.